– A safe open platform to share your personal health stories.
ROLE & DURATION
Product Designer | The Mighty
Concepting, UX/UI, Prototyping & Testing
Team of 2 designers, 1 product manager and 5+ developers
March – July 2018

OVERVIEW

Founded in 2014 by our CEO Mike Porath, The Mighty was started as a publisher aimed at creating real stories for people facing health challenges and disabilities.
As it evolved, contributor network was launched, contributors were soon able to take on more autonomy and create topics and publish stories on their own. Almost one year after the launch, our contributor stories attracted 30 million visitors.
As The Mighty community grew, it became clear that people wanted more ways to express themselves and more ways to support one another.
THE CHALLENGE
In the United States alone, nearly 50% of population has at least one chronic medical condition. About 48 million Americans have disabilities and almost 17% US adults live with a mental illness.
But despite the numbers, these issues can be isolating. That's somewhere The Mighty has been able to help in a big way. Since its first launch, our core value has always been to make people feel heard and understood. Our contributor network will only continue to grow, but it's time to give our members more ways to express themselves on The Mighty.
USER NEEDS
After reviewing the conducted research, user personas and survey from the contributors, we were able to categorize the user needs into these major categories for demoing the potential of Voices:

MARCO
Long-time patient, concerned about privacy
Look for support when he feels alone

NATE
Newly diagnosed, needs to make sense of shift
Need to better understand unfamiliar health topics

ELLEN
Caregiver, advocate for her children
Want to give support for someone experiences the same
SCOPE
The minimum viable product was to make Voices only available to The Mighty members. Contributor's own stories will still be published publicly to allow them gain a broader reach of audiences. Our first iteration goals were to:
→ Cultivate a community where everyone feels validated
→ Encourage a range of expression and knowledge
→ Give people control of their expression
→ Give people a way to ask and answer questions
CONCEPTS AND PROCESS
Using the insights gathered from the research and stakeholders, I began creating wireframes and user flows. After having a go-ahead from the product manager and stakeholders on the concept, we conducted usability tests with the low-fidelity mockups.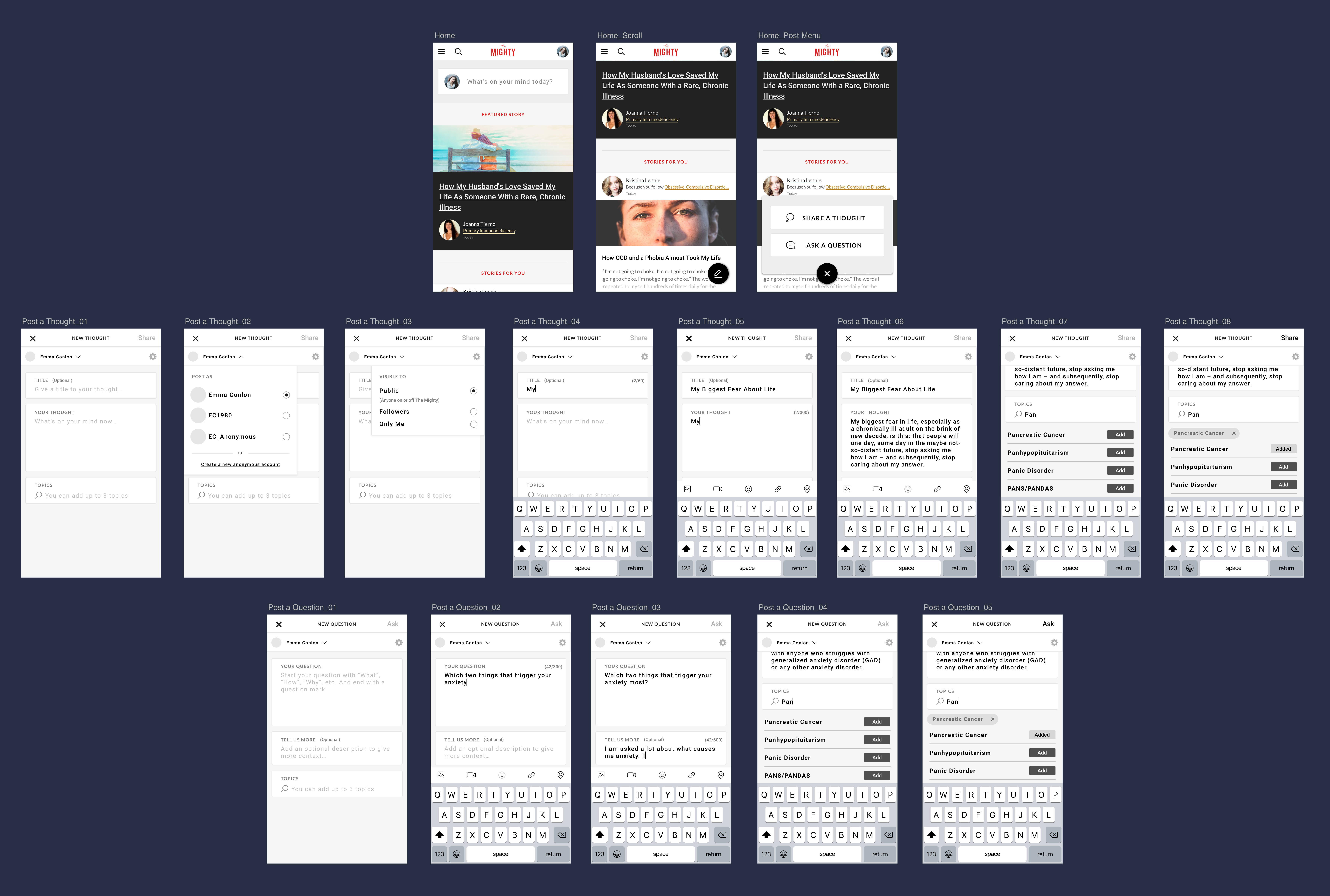 Early Stage of Voices Concept
Testing was conducted among staff during the conceptualizing phase to identify the biggest pain points in the current version in a way of paper prototype. During the redesign, testing was done at every milestone of the project. InVision prototypes were shared with stakeholders to get early feedback.
After numerous testing and QAing, we launched the Alpha Voices project in June 2018 among our staff and contributors, and final release to public on July 2018.
We all have a Mighty Voice

All members can now post their own Thoughts and Questions directly to millions of people in The Mighty community. It's a really simple way to share their experiences that bring so much value to others.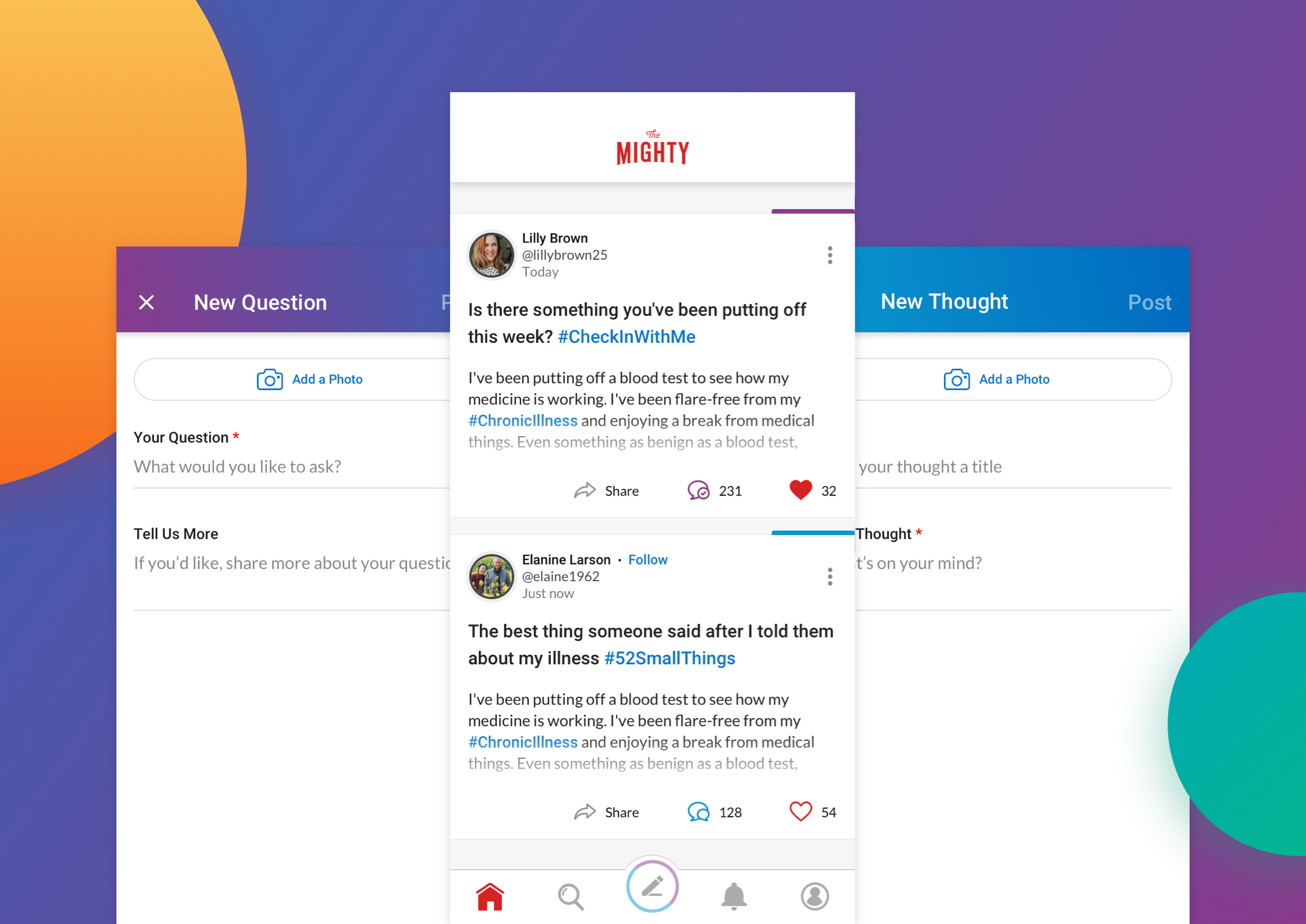 Express with photos when words aren't enough

Having written content alongside photos gives readers a way to understand the post, especially people in our community with accessibility needs who can't see the photo that was shared.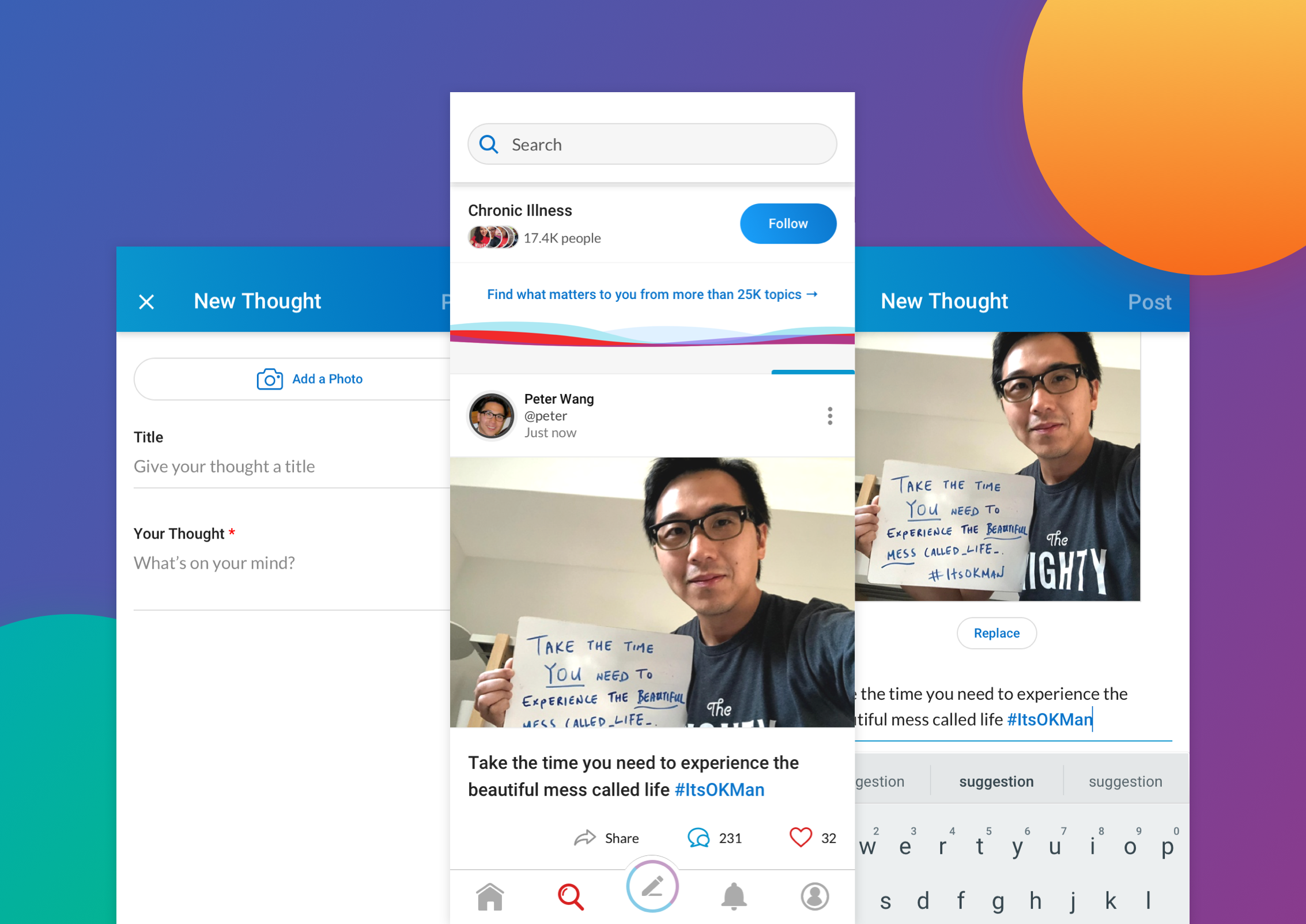 Control over sensitive photos to maintain a safer community

Community stories told through imagery sometimes can be potentially triggering, or sensitive in other ways. Triggering posts will have a sensitive content message that gives users control over showing and hiding the photo.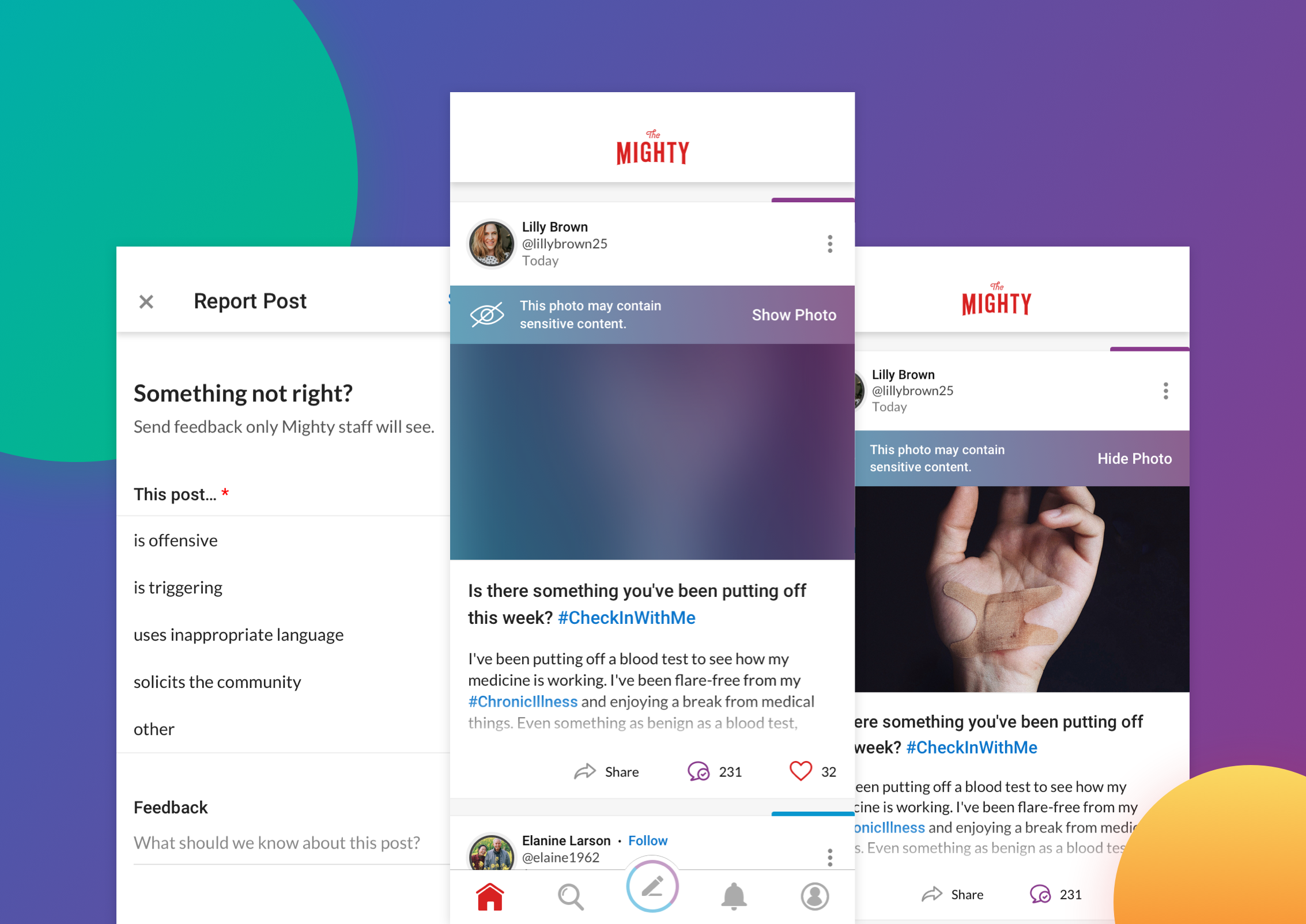 OUTCOMES AND IMPACT
Voices' launching was an pivotal point for The Mighty, as it transformed our value from a content publisher to a community platform. People come for our content and stay for our community. Ever since Voices launched:
• Hearting engagement rate more than double on the platform
• Reaching our 2nd million members in the following month
• # of Thoughts and Questions outpaced our contributor stories
The real value that Voices provides is actually from one of our Mighty members did here, on the first day we launched the product: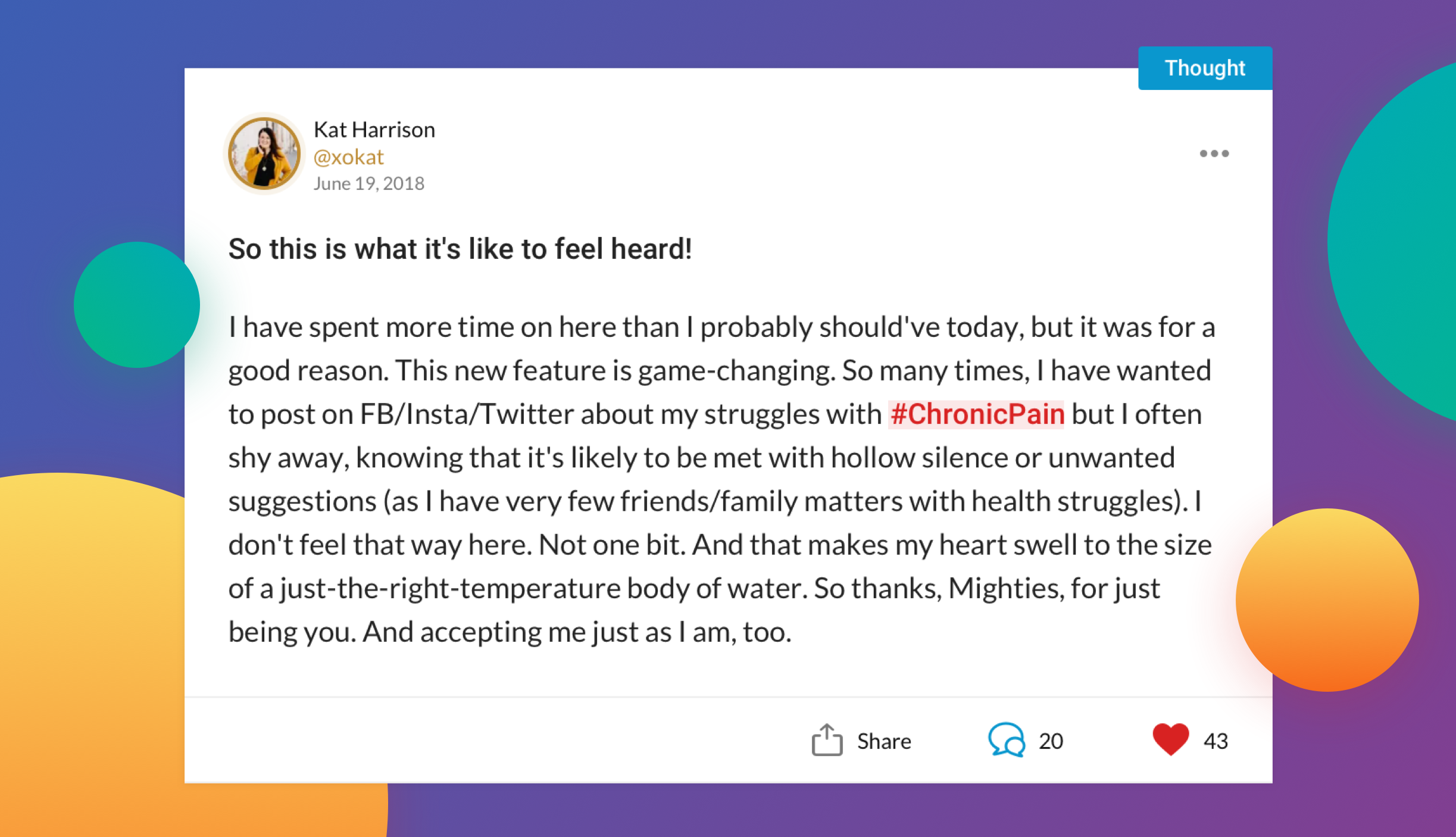 PROJECT LEARNING
Design with accessibility in mind
Improving our product accessibility can enhance the experiences for all users. This includes communities with low vision, blindness, hearing impairments, cognitive impairments, motor impairments or situational disabilities. 
Because of the unique nature of our community, we need to come up with an inclusive design to account for all users' perspectives. It was my pleasure to work with a team that put the community needs at first. 💪