– An app to help you find volunteer opportunities for easing homelessness in your neighborhood
ROLE & DURATION
UX Designer
IA, User Flows, Wireframing,
Prototyping & Testing
Nov 5, 2016


OVERVIEW

On November 2016, I joined a Hackathon hosted by WeShelter and General Assembly and teamed up with three amazing fellows – Bill Masur, Joseph Teblum, and Christina Olinyk. WeShelter's mission is to use mobile technology to allow everyone to contribute to ending homelessness.
The aim of this Hackathon was to prototype a solution about some facet of homelessness. It can be raising money, raising awareness, coordinating volunteers for food drives, or improving any aspect of the current WeShelter app.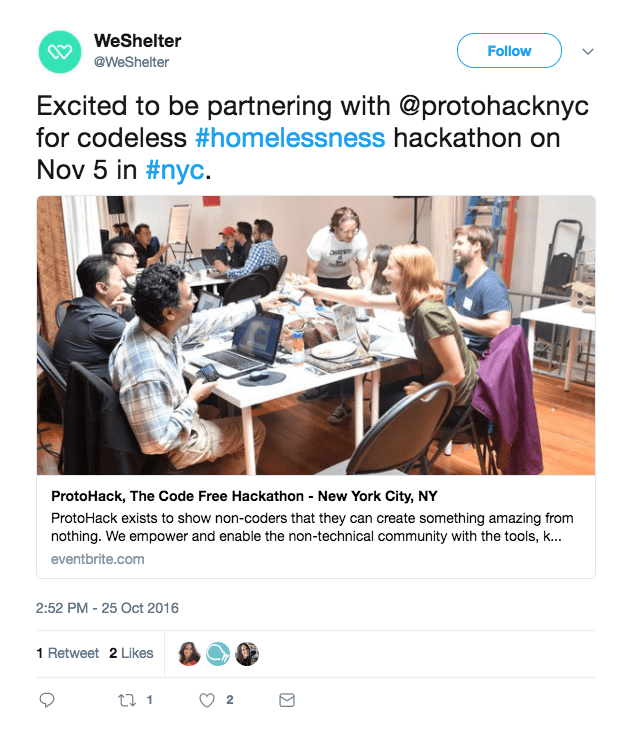 THE PROBLEM
The WeShelter app features geolocation that allows users to identify the street homeless with the tap of a button so the organization can provide direct assistance, and unlock donations to homeless services organizations in the city.
The app could use some help in the following aspects: The new feature "Leaderboard" (individual ranking) didn't convey a sense of community because many users have found the idea of competing in the context of helping the homeless off-putting. The app also didn't communicate the impact that users make after what they contribute.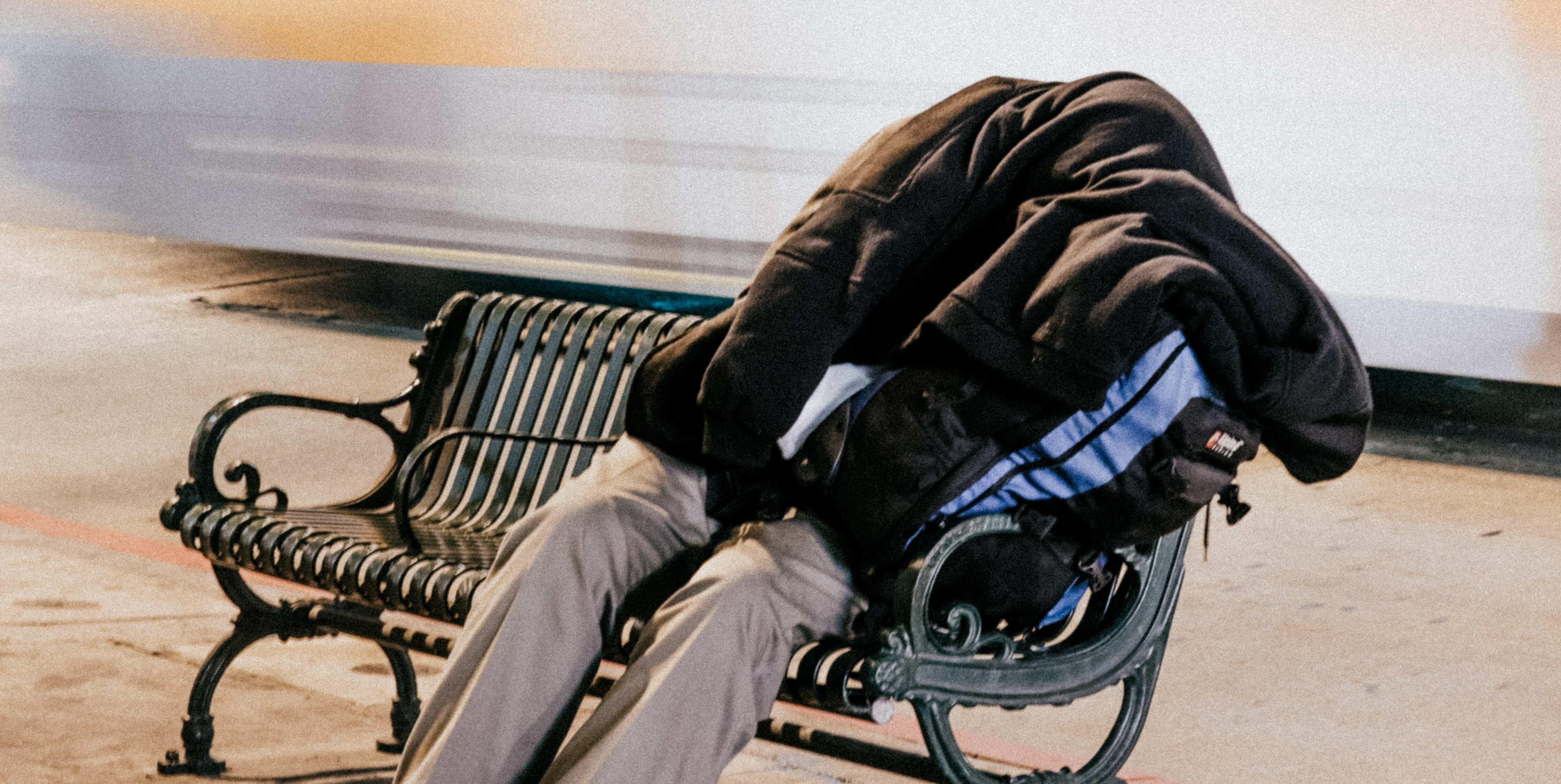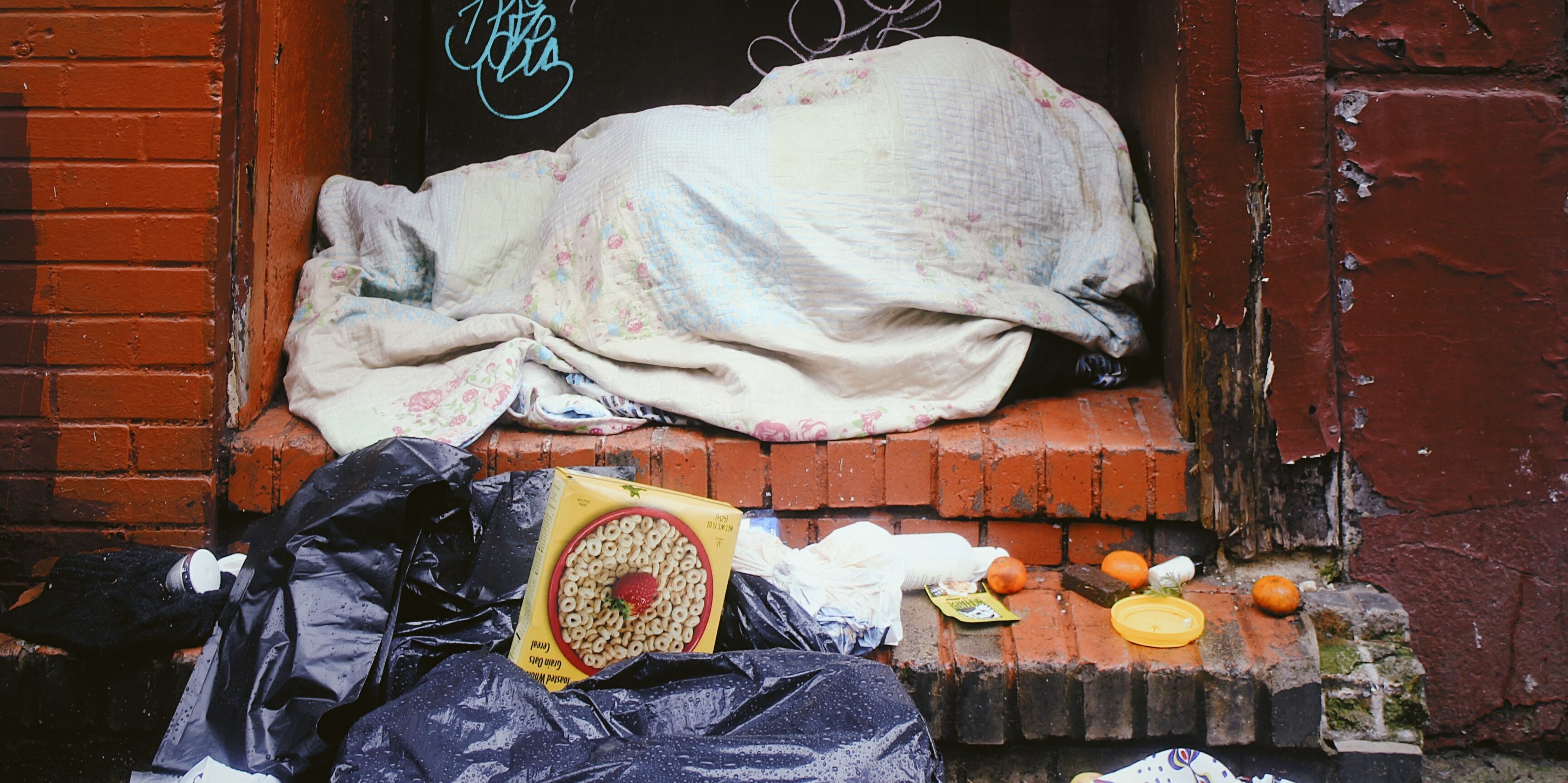 OUR APPROACH
After reviewing the mission and potential challenges, I grouped with Bill Masur, Joseph Teblum, and Christina Olinyk. We quickly defined our roles in this process by understanding each other's background and strength to build a solid team.
From left to right: Bill Masur – Product Manager, Shufei Ma – UX/UI Designer, Joseph Teblum – Seasoned Volunteer, Christina Olinyk – User Researcher.

We started brainstorming to determine the goal and concept of the app that we were planning to prototype. We researched the pain points of the volunteer process. Joseph's previous experiences in volunteer work provided us with a better understanding. Afterwards, we made low-fi paper prototypes to test with other teams and refined the solutions.
After several rounds, we finally presented and pitched our app Neighborly to everyone. To our surprise, we were awarded 2nd place! 👏
"Neighborly is an app which aims to increase community engagement in philanthropic activities."
OUR SOLUTION
The core feature of our app is to provide a more social aspect to volunteering. It helps to discover, schedule and share volunteer opportunities based on the user's location and desired contribution. Neighborly will uncover local organizations to donate money, shelters in need of essentials such as clothes or food, or skill share opportunities to mentor someone with little resources.
Instead of the individual ranking aspect of the original app, Neighborly can help form a better community by having a friendly group competition and game-like element. Below are the wireframes of our app: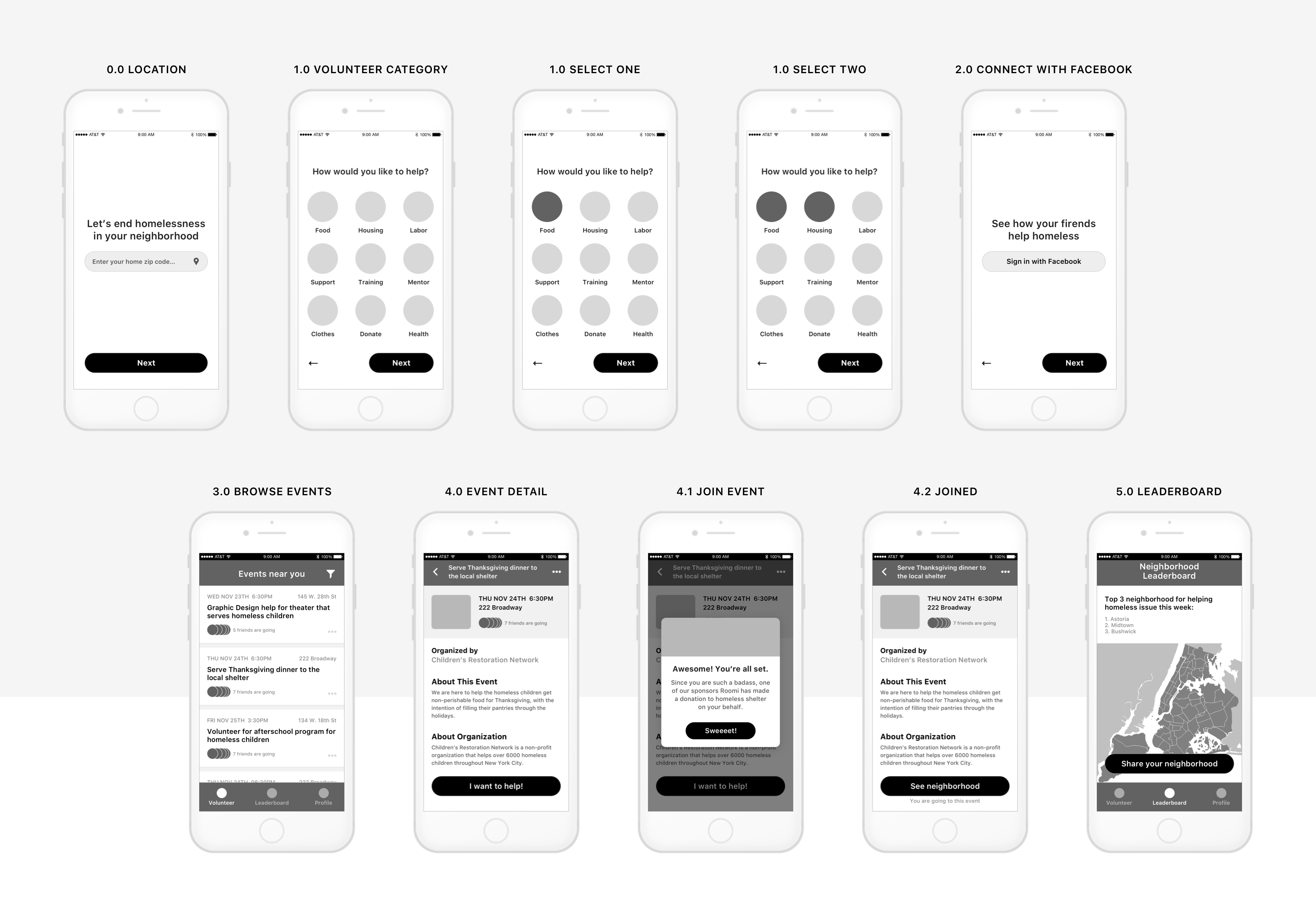 Neighborly Wireframes
NEIGHBORLY'S FUTURE
Because the resources and timeframe were limited and we were such a small team, I'm proud of what we were able to accomplish in one day. Embracing ideas and feedback early in the design process from our mentors and teams helped us find and validate great solutions quicker and more effectively than what we would have done alone. Most importantly though, we created something meaningful – to help address the city's homeless issue. Neighborly's future won't end here, we will continue fighting the good fight!
Special thanks to our team who worked very hard to make this all happen – Bill Masur, Christina Olinyk, and Joseph Teblum. 👏